Cadí Moixeró Natural Park

Bagà, Gisclareny, Castellar de n'Hug, Gósol, Guardiola de Berguedà, Saldes and Vallcebre.

The Cadí-Moixeró Nature Park is the largest of its kind in Catalonia, covering an area of 41,342 hectares. It includes mountainous zones ranging from altitudes of 900 m to 2,468 m. The area has a varied geology and flora and fauna which are typical of Mediterranean, Alpine and Eurosiberian environments.
Massif of Pedraforca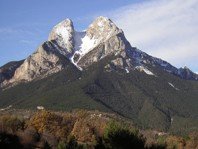 Saldes and Gósol.

In 1982 this area was declared a Nature Spot of National Interest for the purpose of conserving its vegetation and unique beauty, whilst at the same time guaranteeing the rehabilitation of the open-cast coal mines.
This massif is one of the most emblematic nature areas of Catalonia and is noted for its wealth of biological and geological diversity.
Other protected areas

Borredà.

This is one of the few examples of natural systems in the Llobregat Basin that are in good environmental condition.
Here we find water-based and river-bank vegetation, as well as different types of algae. These fluvial habitats have been declared a Partial Nature Reserve in order to protect the otters found here.
Along the stream it is possible to find several pools and beach areas, in which you can swim at certain times of the year.

Cercs, Borredà i Vilada.

This area is on the border of Baix (low) and Alt (high) Berguedà. This mountain range is made up of a highly fractured relief structure, with narrow, deep valleys that have made it possible to preserve some hidden spots and the natural transitional systems that link the Pre-Pyrenees with the high plateaux of the regions of Central Catalonia.

Berga, Capolat, Castellar del Riu.

Covering a surface area of 635 hectares, this is the protected nature park that is closest to Berga, the capital of the Berguedà region.
This area is made up of the Serra de Queralt and the Serra dels Lladres, and its highest point is the peak of Campllong, 1,589 metres high. It has been declared as a Nature Spot of Interest due to its unique geological landscape of sheer rock walls.

Castell de l'Areny, La Nou de Berguedà, La Pobla de Lillet, Sant Julià de Cerdanyola, Sant Jaume de Frontanyà, Borredà and Vilada.

This limestone massif is unique in that it contains a vast array of geological and biological diversity within a relatively small area.
Here we can see the typical vegetation found on shaded and sunny slopes in the eastern Pre-Pyrenees, including holm-oak woods, oak, pine and beech groves, with boxtrees (quite rare in Alt Berguedà).

Gósol.

This is located to the south of the Serra del Cadí and to the west and north of the Serra d'Ensija; consequently, it shares many of the features common to these mountain ranges. The highest point is Cap del Verd, 2,289 metres high.

Serra d'Ensija - Rasos de Peguera
Castellar del Riu, Cercs, Fígols, Gósol, Saldes and Vallcebre.

This area constitutes one of Catalonia's southern boundaries of Alpine and sub-Alpine vegetation. Particularly noteworthy in the higher zones are the Alpine meadows with a great many Pyrenean species and the forests of Swiss mountain pine and rhododendrons. In the lower areas, pine forests predominate, though we can also find woods of woolly oaks with boxtrees and beeches in the shadier areas.
Singular places

Wellness Center Spa Berga Resort

BERGA RESORT has a WELLNESS CLUB with a sport center (12.000 m2) and SPA with thermal area.

Also of a supply varied in sport, health, free time, aesthetic, dietetic and fisioterapia.


Discover the benefits of our Thermal Circuit

- Reduce and relieve tension in your muscles, back and neck.
- Reduce articulation aches and pains.
- Eliminate stress and lower your toxins.
- Stimulate your circulation.
Tree adventure parks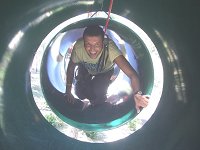 An adventure park offers more than 60 games in differents itineraries:Gresolet itineray, for children from 4 to 7 years old.Ensija itineray, for 7 years old adventurers not under 1'15m. height Pedraforca itinerary, for adventurers taller than 1'40m..